Let's figure out how to prepare GTA 5 for mods!
The first thing you need to do is install
Asi Loader
,
a plugin from the OpenIV
and
ScriptHook teams
. Without these programs, you will not be able to play with mods.
Download these mods by clicking on the green button on the site and run the installer.

For those who put mods from our site for the first time using auto-installation, I explain:
Click the "Browse" button in the installer, select the folder with your game and click "Next". Then everything is as with normal programs.
This is how our installer for GTA 5 looks like.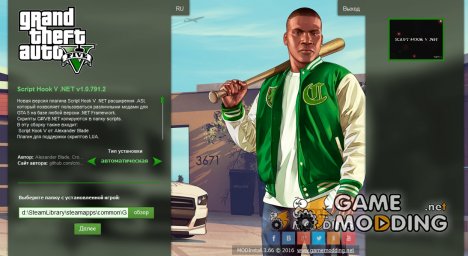 Start the game and if you installed everything correctly, the game should work without any problems.
Now you can safely download from our site:
cars
,
motorcycles
,
scripts
and everything That you will like. Installing any other mods is no different from what we did before.
Problems and solutions:
I see a frequent question in the comments about an error that occurs at the beginning of installing some mods in the game.
I will answer this question once and here. <!--smile:smile-->

<!--/smile-->
If you downloaded a mod and the installer refused to install it in your game, be sure to check whether all the add-ons, or as they are also called DLC you have installed.
The fact is that the game is updated and accordingly mods are made for certain updates that you may not have.
I also recommend putting a licensed game purchased in the Steam. This is guaranteed to mean that your game has all the DLC installed.
If you downloaded GTA 5 from a torrent, you will have to search for the latest version of the build.
But there is another option, you can accept that the mod is not for your game and download others.
Important!
Those who use the licensed game will have to keep track of updates to the ScriptHook program.
Although updates to the game are rare, but after the update, the game stops running and you will see the following error.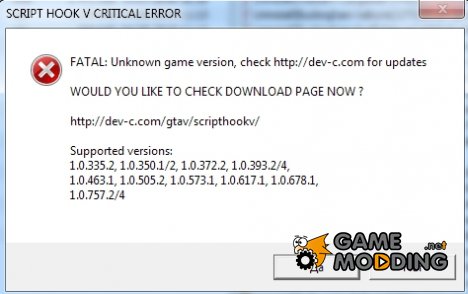 What should I do? That's right, install the new version
of ScriptHook
from the developer's site, or from our site. We regularly update the program, follow our news.
Finally, don't play with mods in online mode. This can lead to a ban.
If you have any questions, feel free to ask them. The more we can, as they say, the more we will help.
And I wish you good luck, fewer crashes and crashes, I hope the article was useful.
Join us to fill the site archive with interesting mods, communicate in our community and support the site Gamemodding.net.
Those who want to post a video as an extension to the article can share a link in the comments.