We would like to bring to your attention our unique program that enables you to install mods into the game in a single click right on the site. So, let`s look into the mechanism of the program in detail.
To start, you need to install Mod Manager itself. This can be done by downloading the installer
here
.
If you`ve installed any mods from our site before, then Mod Manager will on first run automatically detect the installed games and add them to the database. If you`ve never installed mods from our website, you will first need to add at least one game. This can be done by clicking on the "Add Game" button: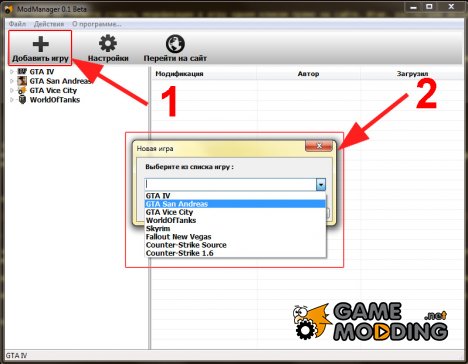 Select type of the game and the folder in which it is located.
Now you can download any mod from the site with Mod Manager. Go to the description of any mod, such as
this
one and click on the link "Download from our server with Mod Manager". A page will open before downloading. After waiting for 10 seconds and by clicking on the Download button you will see the following: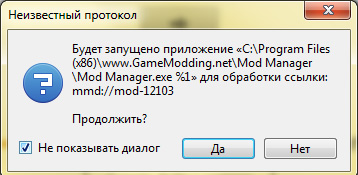 Check the "Do not show dialog", click "Yes" and after some time this mod will be added to the list of mods for the selected game.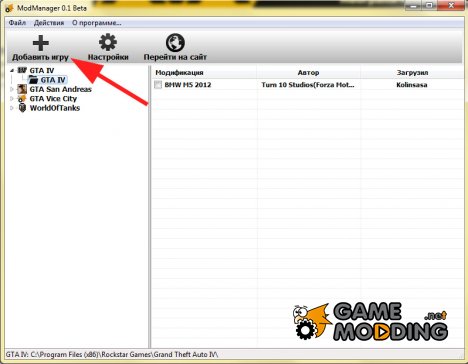 If you have installed several identical games in different folders, then this mod will appear in each of these games.
However, this doesn`t complete the installation process! Now we have to activate the mod in the game. To do this go to the list of mods and put a tick against the mod you want to activate in the game and after a few seconds you can safely enter the game with a new mod or continue to download mods from our site.
To remove any mod from the game you should uncheck the related box and the mod will be removed from the game, but it will remain on the list in case you might wish to install it in the future.
So far, the Mod Manager has 0.1 beta version. We`ve just launched it, so it may contain some mistakes. If something similar occurs, please report bugs to the Forum.
We will continue to actively update our program. If you have any ideas on how to improve the Mod Manager, leave your feedback in
this thread
.
Yours faithfully, GameModding.net.team. We`re working for you.